Are you looking to create your professional documents with the default tools in Word, Excel, or PowerPoint? Microsoft Office brings you a plethora of add-ins so that you can add sizzle to your work. Thus, consider them as essential features to your productivity, whether it's designing a preparatory office memo or a complete set of Kindle e-book. So, how efficiently your document has been created virtually depends on how good you are in selecting the needful add-ins.
With an estimation of over 1 billion Microsoft Office users today and thousands of add-ins in the Microsoft Store, it becomes our duty to share the top 10 add-ins so that you know the best working style with documents, spreadsheets, presentations, and the mails. 
Although Microsoft Word (2019, 2016, or Microsoft 365) can help you create any document, you will have to look for the impressive roster of Microsoft Office add-ins for an extra refined outlook. And to master the skills, do not miss Online Microsoft Office Training.
Why are Microsoft Word add-ins required?
Add-ins or Office Apps are just a helping hand to assist with the few minor tasks that are not possible to be carried out by Word on its own. For example, if you're studying Mathematics and want to solve the equations smartly, then Adds-in are at the rescue. Another essential feature is that it can serve the purpose of sending and tracking a document for e-signature and also gets you spectacular stock photos for documents. Microsoft Office add-ins simulate extensions for Google Chrome. And this is how it makes MS Word more inventive and power-driven.
We don't want to complicate the idea of the topic, and since it's pretty strenuous to cover the entire Office environment, we will emphasize the two Office software and their add-ins.
Microsoft Word add-ins
Microsoft Word in 2021 is better than ever. But when you want it to do even more (for instance, improve your writing), then add-ins can give that extra help. Here are ten add-ins you should consider.

MyScript Math Sample
If you want to do the equations handwritten into your documents, you can use the Word gallery or use Ink Equation. Otherwise, manual typing is always an option. Use your finger, stylus, or mouse to access more than 200 mathematical symbols. The handwriting recognition converts your input to an explicitly typed equation immediately.
Vertex42 Template Gallery
Well, this Template Gallery helps you discover templates that are usually not available in Word or Excel. Thus offering 300+ templates choices other than the default ones. can utilize various Template designs can utilize a variety of Template designs for corporate needs, education, and personal tracking.
To-do
It is critically important to check the estimated time for any task completion. To deliver the assigned project within a deadline, To-do provides a countdown timer. It coordinates with each task with an approaching deadline or a due date. It keeps track of your on-time work.
I Should Be Writing
This one is my favourite as it combines a timer and a word count counter. You can understand it's essential to write a massive bundle of a research paper, thesis, dissertations or extended essay. You can start typing or press the go button to initiate the clock while setting up the word count and the timer as per your requirements. And to terminate, you can press the stop button even before the goal is reached.
Pixabay Images
It makes you aware of one of the largest databases of Creative Commons (CCO) images. If you use and follow their catalogue to add unique images to your presentations, documents, brochures, or flyers, there is zero doubt that it will be outstanding. You are just a click away to make your document appealing with magnificent pictures and visuals.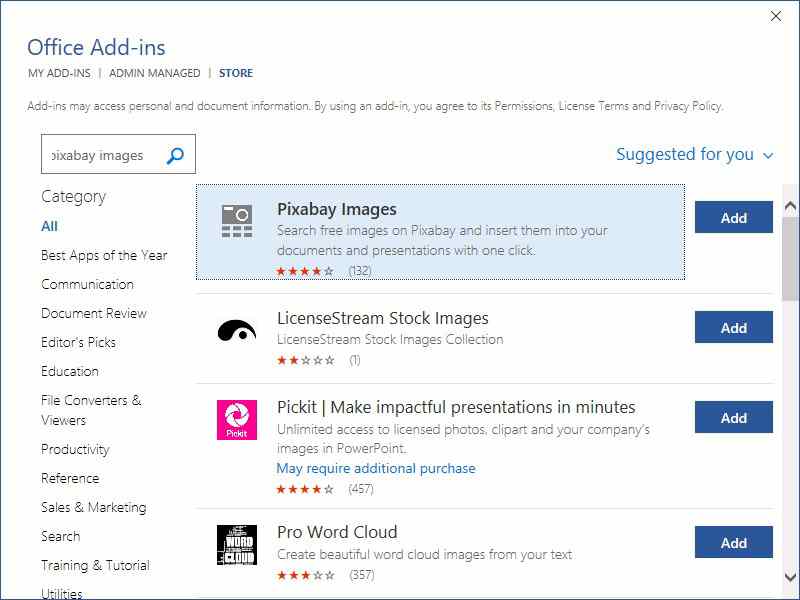 Microsoft Excel add-ins
Although the spreadsheets seem to organize most of the data in a tabular format, the Excel Add-ins help you create a simple and engaging sheet.

XLTools.net Data Cleaning
This add-in helps you create cleaner spreadsheets with a single click. You get a scrubber for unwanted spaces, line breaks, or symbols. You can change sentence case, convert text to numbers, or vice versa to standardize your data.
People Graph
An infographic looks more exciting and captivating to go through. Presenting your data or stats via spreadsheet becomes easier to assimilate if displayed using charts and coloured design Excel tools. You can use three types of charts, different shapes, and themes to generate more vivid data.
Quandl
Quandl is a free Add-in (though the datasets need to be purchased) that allows financial, economic and other datasets from the Quandl marketplace. Thus, it helps you reach out to good quality data from all over and make it available for your research. Moreover, you can process the Quandl dataset into Excel for all your queries built into the Add-in.
Transform Data by Example
When you find the right formula to convert your data, it saves time and extra effort. So play smart by adding a couple of examples( at least two) and getting the transformations quickly done. Since you come across such tasks daily, this Add-in will work as a reverse search engine for any function you need to use.
ToDo List Pro
ToDo List Pro provides you with a step-by-step checklist for Excel worksheets and PowerPoint presentations to let you work systematically. It can sometimes become tedious when you have a lot on your plate. So to avoid the hassle, minor project management aid has been developed. With this tool, you can always make sure that a to-do list in a side panel is visible and you have a track record of the scheduled tasks.
You must have noticed that can use some add-ins can use some Add-ins in more than one software.