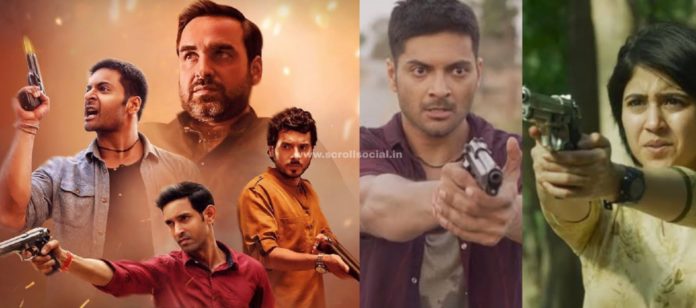 Mirzapur is the Indian Crime, Action, thriller series that everyone has been speaking about since the first season released on Amazon Prime in 2018, now everyone is waiting for Mirzapur Season 2.
The series follows two brothers (Guddu and Bablu) who are caught up in a world of drugs, violence, and the mafia.
Mirzapur Season 2
Mirzapur the series Mirzapur 2 cast are Pankaj Tripathi, Ali Fazal, Divyendu Sharma, Shweta Tripathi, and Rasika Dugal — and confirmed that the Mirzapur Season 2 would return in 2020.
The new Mirzapur season 2 teaser highlights two funeral pyres and is described by Akhandanand "Kaleen Bhaiya" Tripathi (Pankaj Tripathi), who states: "Jo Aaya hai, vo jaayega bhi, bas marzi hamaari hogi [Those who come, will go as well, but it will be on our terms]."
On February 14th, 2020 Valentines Day Mirzapur actor Ali Fazal (Guddu Bhaiya), Shwetha Tripathi and Harshita Gaur uploaded a photo on Instagram, and they mentioned "The Only date I want this Valentine's is Mirzapur Release date," Caption (Toh yeh hai: MIRZAPUR SEASON 2 #mirzapur is my date requirement today!!! .)
In an interview with Bollywood Bubble, Divyendu Sharma aka Munna Bhaiya has presented us with an exciting update of Mirzapur 2 and when will it release on Amazon Prime Video.
When the interviewer asked to Munna Bhaiya about the Mirzapur 2 release date, he said, "Yes, even I'm so thrilled for the release of Mirzapur 2.
Don't know when it's releasing specifically. The shooting has been done, currently, post-production work is getting a place. And I need to do my part of dubbing, sounding it will be great fun. I'll go for the dubbing and see what all we have executed.
Mirzapur 2 main character Ali Fazal Aka Guddu Bhaiya and her Girlfriend Richa Chada where planning for a Wedding in the Month of April. As some rumors, many say Mirzapur Season 2 may release in the Month of April Only.
Many fans of Guddu Bhaiya and Munna Bhaiya's are eagerly waiting for a thrilling fight in Mirzapur 2. Rightly everyone knows that there will be definitely somewhat thrilled in Mirzapur  2.
Mirzapur Season 2 Release Date:
The season of celebration as the web series is getting back after two years with its second season. Mirzapur Season 2 release date announced by the makers of Mirzapur 2, the release date is October 23, 2020.
When the first season of the show left, it was called the remake version of Anurag Kashyap's Gangs of Wasseypur. However, over the years, this kitsch frame has become the norm in the OTT space.
A great thing that works in Mirzapur's favor is the integrity of the story. Mirzapur isn't difficult to follow in terms of its plot, and the makers make our viewing experience even simpler. In fact, even if you get puzzled for a while, the show's mostly expositional nature gets you back on track within minutes.
Unlike many other crime thrillers wherever we are viewing for the heroes, there are no genuine men in Mirzapur. The people you end up rooting for are less evil than the others, but the show presents it a point to test the viewers' moral scale from time to time.
The official release date of Amazon Original Mirzapur 2 is yet to be released by the creators. Prominently, the first season of Mirzapur was released in November 2018, and it has been almost two years since people are excited to watch the Mirzapur season 2.
Talking about its first season, it has nine episodes, and it is assumed that the second season of Mirzapur will also have 8 to 10 episodes.
If you have not watched Mirzapur season 1, you can watch it on Amazon Prime Video. Mirzapur 2 to be released in April 2020? Guessing maybe.
Mirzapur 2 Cast:
The official listing of the entire Mirzapur season 2 cast is yet to be dropped by the makers. However, the lead cast such as Pankaj Tripathi, Ali Fazal, Divyendu Sharma, Rasika Dugal, and Shweta Tripathi will return to the series.
It is possible if Vikrant Massey will be returning as Guddu's brother, Bablu, as Munna Bhaiya shot him in the finale of season 1.
Speaking to India Today online, Vikrant Massey said: "Honestly, when I began shooting for the web series, I wasn't notified about my character's death." "I came to know about it after shooting for 15 days. I was a little taken aback.
Is Shweta Tripathi reprising her character in Mirzapur 2? Yes, Shweta Tripathi is spotted sporting short hair and showing a gun at someone in the latest photo from Mirzapur, as reported by India Today. "I had a zero make-up look for the Series. I would step into the shoot with some sunscreen, and that's it," Shweta Tripathi said.
Mirzapur 2 Story "Prediction"
The story of Mirzapur season 2 seems to be very exciting as Guddu Bhaiyya (Ali Fazal) will have a more violent avatar then we had seen in the first season. Yes, he will make all feasible efforts to take revenge for the death of his brother Bablu and wife Sweety.
He is expected to get support from different gangs. It is reported that Guddu will get help from Lala to cripple the carpet business of the Tripathi family.
Once Guddu Bhaiya gets supports from different gangs, Munna Tripathi will have more enemies than anyone else in Mirzapur 2.
Guddu might be using people's feelings and will turn the tables on Munna, which will be supported by JP Yadav. Also, it is predicted that Bina (Kaleen Bhaiya Wife) will kill Akhandanand's father.
Mirzapur Season 3 Release Date
As we all seen that in Mirzapur Season 2 Munna bhaiya died and we expect that there will be no return of Munna Bhaiya in Mirzapur Season 3.
In Mirzapur 3 the story will be evolve in between Guddu, Kaleen Tripathi, Golu, Dadda Tyagi, Bharat Tyagi/Shatrughan Tyagi and some more characters.
Actor Ali Fazal aka Guddu Bhaiya posted something about a Season 3 of Mirzapur on his Social Media, it may be a clue for Mirzapur series lovers.
As per some sources it has to come to know that shooting for Mirzapur 3 is started.
It seems Mirzapur 3 will be release in 2023 or 2024, yet no more official update from the makers or Amazon Prime.