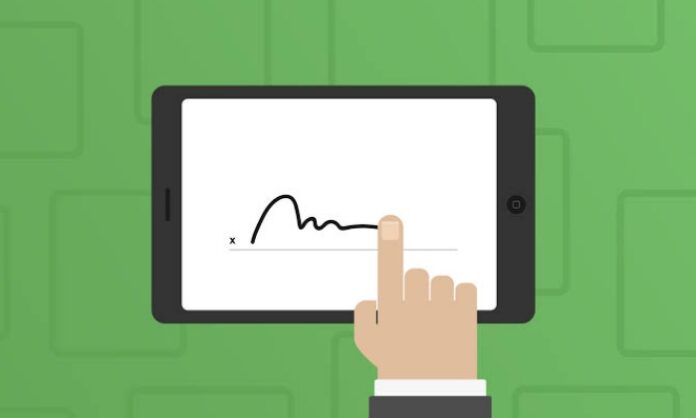 From daily public transport struggles to world health concerns, at times, things get in the way of getting to the workplace. So, how can you maintain productivity while working from home? How can you ensure that contracts keep getting signed and documents keep being made?
Fortunately, we live in an age where working from home (WFH) is possible and widely embraced. Many organizations are starting to adopt WFH strategies to eliminate operational overhead and empower workers to get the job done effectively. There are digital tools available from web conferencing to eSignature platforms to help staff reduce administrative challenges and do their best work from home.
Electronic signature technology allows companies to establish secure, legally viable contracts, which it can distribute electronically, and mandate employees to fill them out. The strategy can be utilized for everything from interdepartmental agreements to HR forms, ensuring critical information is communicated correctly, and users have read thoroughly and agreed to the policies.
In the right business setting, only talking over the phone is not enough without sharing documents. The truth is that many organizations are finding it challenging when it comes to the sharing of documents online. Some are used to signing contracts with wet-ink signatures, and the problem of WFH is leaving them in a dilemma. But it should not be the case. Deals can still be signed quickly, and documents can be shared online through electronic signature platforms.
As a part of digital transformation, multiple sectors like banking and insurance, human resource, public administration, healthcare, and sales have turned to eSignature solutions to facilitate document approvals, such as citizen procedures, onboarding paperwork, payrolls, and so much more.
Importance of Electronic Signatures in WFH Plans
One of the significant issues associated with work from home strategies is keeping your non-office staff connected to the office. For instance, if an organization is establishing new overtime policies and requires each staff to sign off to ensure compliance, it will need to look for a way to communicate with every worker. Having meetings isn't useful as remote workers may not be able to get to the workplace, and virtual gathering can help when it comes to details distribution. But again, receiving complete attendance is challenging.
A good eSignature system creates a procedure that validates if someone has performed the necessary actions in terms of reading agreements, filling out forms, and signing off. The solution captures every part of the procedures into a neat file, which verifies someone has performed all actions a company thinks mandatory. It can make it simple to ensure that the significant business messaging is disseminated throughout an organization as various departments can keep full records of signatures and distribute new digital copies of contracts when required.
Let us read out the ways an online electronic signature software can keep your enterprise moving forward, from any location, no matter in which department you work.
Why Businesses Must Encourage Using eSignatures When Working Remotely
Enhances Time Management and Effectiveness
In business, there is a need for speed. eSignature solutions cut back on the amount of heavy paperwork, which means that you can get signed contracts ago from your customers more quickly and efficiently. Plus, it minimizes the likelihood of errors that can slow down business functions.
Versatile and Convenient
Organizations have clients, staff, and contacts based all around the globe. Hence, it makes sense that you can send agreements to anyone, anywhere, to sign at a specific time that suits them electronically. Also, they can send back the documents securely and quickly through a smart device if they are on the move. Contracts which need an electronic signature can be sent in various languages as well. It means communication is no longer a problem.
Safety and Security
Organizations often need to send out sensitive and confidential information or data to get signed. Knowing that you can do this safely and securely is critical. Whether it's a recruiting document, a sales agreement, or NDAs, which requires a signature, performing it digitally signifies that sensitive contracts can be encrypted and do not have to depend on the postal service or a traditional fax system.
It is Legally Binding
A robust electronic signature solution, such as SutiSign, allows multiple parties in various jurisdictions to complete document signing in a legally valid way. The solution complies with the U.S. federal ESIGN ACT and international laws.
Generates a Transparent, Digital Audit Trail
Deploying a new method can, at times, cause disruption that can be off-putting when an organization requires to carry on operationally. The good news is an automated eSignature software can be embedded into many of the applications and systems your company is using already. Also, you can generate contracts in many formats and upload them to a range of file sharing websites, thus making them easy to access.
Adaptability
Besides the security and speed, online eSignature solutions guarantee adaptability on several popular business platforms, for companies trying out the flexibility option, many tools that integrate with the solution and ultimately enhance collaboration among team members.
Easy to Seal Contract in a Few Minutes
Every company has an objective of closing deals quickly. But receiving the last signature from a customer can be challenging-especially if you fail to meet with them face-to-face. Fortunately, eSignature platforms can ease the final crucial milestone and turn it into a competitive advantage.
By integrating the eSign software solution with your CRM application makes the work a lot easier. Clients can easily and quickly sign agreements. Your team, wherever they are, can track progress to make sure that the sales cycle keeps rolling. Signers and senders benefit from seamless experiences on smart devices.
Hiring Candidates Remotely
Recruitment is a mandatory HR process. So, keep pace with the hiring programs when you work from home and ensure that you get the right offers to the right applicants, regardless of where you are.
Electronic signatures help you transform HR, from recruitment to retirement, by connecting, automation, as well as accelerating staff agreement processes. Also, you can send out documents to a prospective recruit in a few minutes. They can receive the document, get back to you if they have any questions and then sign on the dotted line. No need for in-person interactions; signing can be done just a few clicks from almost any device.
Keep Up with the Supplies Without Paper
Streamline the management of your supplier documents using an eSignature system. From initiation to archiving, you can handle it all through a single interface and a digital signature. When purchasing methods, such as supplier onboarding can be challenging, digitization makes it simple for your teammates, while ensuring compliance.
Paying Employee Expenses While Working from Home
When your colleagues are working remotely, do you know who is looking after reimbursing expenses? Expense reports can be a challenging thing to handle remotely- especially if you require items verified or before paying them. If it is in eSign software, then you can send out a worker's expenses for approval at the click of a button, and employers can sign from wherever they are.
No Need of Going Out for Signing Leases
Realtors have embraced the advantages of the eSign solution to ease all the paperwork to offer better client experience and ensure compliance. Gone are the days of sending back and forth lease agreements by post, or printing, faxing, signing on paper, and then sending it back via email.
The Bottom Line
Digital methods are making remote work strategies more accessible all the time. Embracing WFH hinges on an organization's capability to shift its operations to digital formats, and eSignatures make that possible when it comes to HR and internal documentation functions.