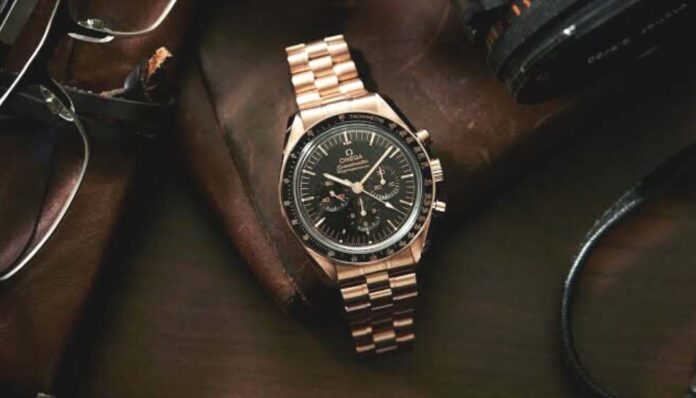 We shall recollect ourselves and claim this year to be a lot better than 2020. Despite the challenging and arduous times of the previous year caused by the pandemic, we shall not allow ourselves to lose our touch, style, and confidence. Fashion has always been timeless and will continue from this year forth.
Finding the right accessory is not an easy task, especially when seeking the perfect opulent timepiece. There are too many to choose from in the market, and the prices are on par with each other. To give you a better angle on which luxury wristwatch to invest in 2021, check out these four majestic and classy watches: 
Omega Speedmaster
There are numerous factors to love about the Omega Speedmaster. Aside from how the brand efficiently earned its respectable reputation, this Omega series is quite catchy. These watches are pretty popular with astronauts and famous racers. It also includes the very first wristwatch ever brought to the moon.
The Omega Speedmaster Racing Co-Axial Chronograph 40 mm Automatic Grey Dial is an excellent choice for gentlemen seeking the perfect masculine watch. Its size is ideal for any gentleman's wrist, and its grey dial with yellow accents blends perfectly. It also has three sub-dials with multiple functions that fit just fine for racecar drivers.
Speedmaster matches the quick lifestyle of racecar drivers. Aside from providing a more classy and superior look, it works well with their driving and racing. Racers will have an accurate view of their speed while driving with this luxury watch, and Speedmaster can record them as well. This famous Omega Speedmaster tachymeter can measure up to 500kph. 
Rolex Submariner 2020
Of course, we can never take this one off the list. Rolex has been Omega's formidable adversary for quite some time already. These two luxurious brands continue to battle roughly, and the winner is pretty hard to determine. One of the most popular designs of Rolex is the classic Submariner. And guess what? They did release its latest version last year!
You might have expected they will have a different design, but the brand kept the original looks and maintained its heritage. The Rolex Submariner's mild modifications come slightly more significant than the previous design with a 41mm case. This classic diver's watch is suitable for a gentleman looking for a luxurious timepiece that etches a distinctive look.
Audemars Piguet Code 11.59
When we talk about the luxurious Swiss watchmaker Audemars Piguet, the first thing that comes to mind is the Royal Oak Offshore. You need to explore more about this brand and check out its latest release called Audemars Piguet Code 11.59. The design name itself already sounds peculiar yet catchy. When you get to take a closer look, you might fall in love instantly.
The brand quotes Code 11.59 as "the most important launch since the Royal Oak in 1972." It has an innovative crystal that curves two separate axes that define its unique architectural design. You will later realize why Audemars Piguet considered Code 11.59 as an exceptional release. Although it has various colour selections, the burgundy is pretty eye-catching.
Jaeger Lecoultre Reverso
Now, if you are looking for a rectangular-shaped watch with an exquisite and remarkable appearance, you need to check out the Jaeger Lecoultre Reverso. Although this watch may be versatile with outfits, this one perfectly combines formal attires, tuxedos, or suits. This opulent timepiece comes uniquely with a deep emerald green colour.
Jaeger Lecoultre Reverso 2021 does not disappoint its predecessors as its professional and superior approach comes naturally. The deep emerald green dial and the leather strap fit perfectly with its stainless steel case. If you feel your current watch is outdated, this Jaeger Lecoultre is released this 2021 and must be added to your luxury watch collection!
Takeaway
Uncovering different ways out of your comfort zone is an intelligent choice to recover from the dreadful 2020. Luring yourself to your most favourite comfort is a different story. The same goes for selecting the perfect opulent wristwatch. We must never forget that life is not all about work and career, and self-satisfaction must still be considered.
These four luxurious timepieces are perfect for your 2021 collection! Considering that these opulent watches are not levelled with affordable ones, you must take time to learn more about them before investing. Once you decide which is which, rest assured you will find your decision-making as fine as these watches.