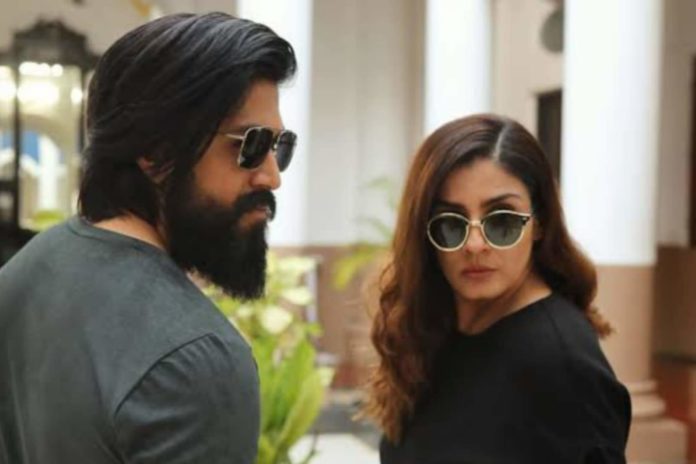 Actress Raveena Tandon has joined the group of KGF Chapter 2, Directed by Prashanth Neel; the film is a continuation of the 2018 period action movie starring Rocking Star Yash in the lead role.
The official handle of Excel Entertainment released the confirmation on the character. It said, "The lady who issued the death warrant has now come! Welcome aboard the most energetic @TandonRaveena for #KGFChapter2. @hombalefilms @TheNameIsYash @prashanthneel @duttsanjay @VKiragandur @SrinidhiShetty7 @bhuvangowda84 @BasrurRavi."
Raveena Tandon will be seen essaying the role of Ramika Sen in the upcoming movie. Actor Sanjay Dutt is also a character of the film KGF Chapter 2. He will play the role of Adheera, who is an opponent. The film KGF follows Rocky Bhai, who rises from poverty to become the king of a gold mine.
Sanjay Dutt, Raveena Tandon, and Srinidhi Shetty had reportedly completed the shooting their parts, and the movie was almost ready to go into post-production. In the film, while Sanjay Dutt plays Adheera, Raveena Tondon will be seen as Prime Minister Ramika Sen.
When Raveena was asked about her experience of shooting for the Yash-starrer, she said, "This is my ninth or tenth South film and my second Kannad movie. However, it is more of a pan-India film because it is releasing in all languages.
It was something that attracted me because I have not played a character like what I've played in this film. She is great. It was a character that was very difficult to play because you couldn't accurately be the villain of the story because you are also a positive character.
I am playing the Prime Minister in the movie. Everyone says it is a take-off on Indira Gandhi, but no, it is no. It addresses the 70s and 80s, and I think that is why everyone is thinking that I am playing a role similar to Ms. Gandhi. I could be Sheikh Haseena for all you know!"
Further talking about her experience of shooting with the cast and crew of 'KGF: Chapter 2', Raveena Tondon said, "It was a comfort shooting with Prashanth Neel and Yash. They are such wonderful guys and such a fantastic unit. I love shooting in the South, and I'm looking forward to 'KGF' as much as you are."
When questioned if fans can expect to see her reunite opposite Sanjay Dutt on the big screen with this film, Raveena Tondon said, "We are not together in this movie opposite each other. It is very exciting, but I don't think I can tell that much about the film."
Rocking Star Yash's 'KGF: Chapter 1' came at the end of the year 2018 and rocked Indian cinema altogether. Its rawness captured the eye of the audience all over the world, and Yash's fan-base grew enormously.
After this, when the sequel to the film was announced, fans couldn't wait for it to start going, and their happiness knew no bounds when the makers announced that Bollywood stars Sanjay Dutt and Raveena Tandon too had been roped in for 'KGF: Chapter 2'.