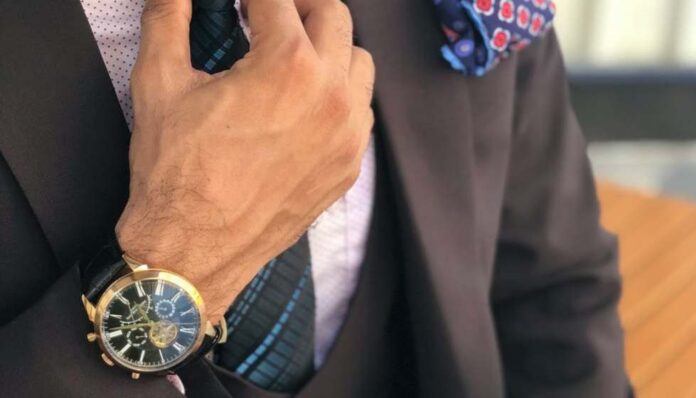 Since its foundation in 1884, Breitling watches have been one of the first choices of watch enthusiasts. The brand offers a great collection of sport timepieces and grabs the hearts of thousands of people worldwide with its luxurious accessories. 
Breitling's collection is truly a must-have this 2021, especially if you are looking for timepieces that can beautify your wardrobe. Most of their watches are available only at reasonable prices. This is one of the compelling reasons why Breiling is known worldwide. Check out these most recommended series from the Breitling collection that will surely gratify you. 
Transocean Chronograph Automatic Men's Diamond Watch
This is one of the most appealing automatic men's diamond timepieces under the Breitling collection that will surely delight you with its detailed aesthetics. The watch features a brown crocodile leather strap, showing its 38 mm stainless steel case and its 18k rose gold fixed bezel.
Its bronze dial features a chronograph and date function. Its hands also feature rose gold with luminescent markers. You can grab it now for only ¥745,273 and make it your primary sports watch with its 100 meters water-resistance.
Bentley B05 Unitime Men's Watch 49mm
One of the most popular watches of Breitling that will surely delight you with its unique, modern, and sporty aesthetics and functions. Its big, polished metal case has a diameter of 49 mm with a stainless steel bracelet.
Its stainless-steel hour, as well as its minute hands, are filled with light. It also features 100-meter water-resistance, defeating any weather-related conditions. The watch's current selling price is ¥1,063,455, which is tax-free.
Galactic Blue Steel 41mm
This is one of the most known wristwatches under the brand that embodies perfection. The watch features a 41 mm round case made of stainless steel with a bracelet strap, giving it a decorative touch. Its whole dial is a blue-horizon color with silver.
The detailed aesthetics are perfect for modern lifestyles. It also features 300-meter water-resistance, making it ideal for underwater adventures. Galactic Blue Steel 41mm current selling price is ¥454,455. Get yours now!
Superocean Chronograph Steelfish Blue Steel 44mm
This watch is mainly popular among professional divers due to its useful diving features that you can only grab for as low as ¥454,455. This is a 44mm watch that features a stainless steel case. It also comes with a navy blue colored-dial with day and date features.
The whole bezel is rotating and one-way, with luminous hands. Its scratch-resistant dial window is made of sapphire crystal and has a water-resistance of up to 500 meters. This is also tax-free; thus, you must have yours now and make this part of your favorite collections for this whole year.
Chronomat 44 Limited Edition Yellow Steel/Textile 44mm
You cannot doubt the supremacy of this limited edition Breitling watch. Since its launch, this Chronomat has become the most favored accessory among air squadrons. Initially introduced, this series 30 years ago to accommodate the widely known aerobatic squad, Frecce Tricolori.
Its case is a purely stainless steel case with a yellow signature dial. It also has an automatic movement. With a limited launch of 250 pieces, this timepiece was undoubtedly a headpiece in the Breitling timepiece's cap. Get your limited edition now for only ¥531,728.
Transocean Chronograph Limited Edition Blue Steel/Leather 43mm
This watch will surely amaze you with its modern style with a soft touch of classic aesthetics, particularly the unique designs under the 1950s and 1960s fashion. This Chronograph has a limited steel case and is mainly characterized by a mechanical, self-winding movement.
The brilliant blue dial is evident and easy to read. Without a doubt, this Breitling Transocean is mostly about looks and personality with a lug strap. Check it out now for only ¥563,545, and make your fashion an actual resemblance of elegance and beauty. 
Transocean Chronograph Unitime 46
Another Transocean Breitling collection is this sporty look Transocean Chronograph Unitime 46 watch that you can avail for as low as ¥677,182. It is 46mm stainless steel case is exquisitely refined and beautifully aligns the black dial. It also has a scratch-resistant sapphire crystal. The watch is entirely waterproof to 100 m and is stunningly presented in a black leather strap. 
Takeaway
Make your whole year more fulfilling with the watches mentioned above. Whether you opt for Bentley B05 Unitime Men's Watch 49mm or the brand's Chronomat 44 Limited Edition Yellow Steel/Textile 44mm, rest assured that you will have the most gratifying fashion buddy. Turn your wardrobe now into paradise.