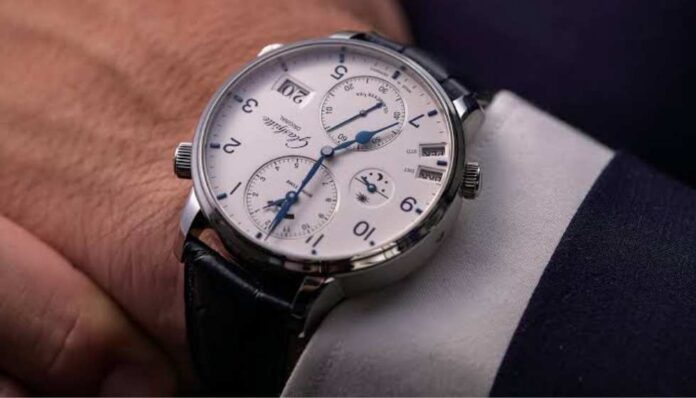 There are many ways to express love. It can be in the means of words and actions. The language of love travels from different perspectives. For some, the giving of valuable things becomes their unique way of expression. It transcends in the form of a gift that significantly embodies that affection of deep love.
Gifts come in many types, and there are plenty of choices. And accessories like watches get favored most of the time. Its luxury of designs and features gives an attraction that undeniably can make a person happy and feel loved. Here are some of the elegantly crafted timepieces from Glashutte Original that can perfectly replicate your love.
Glashutte Original PanomaticLunar 40mm Men's Watch
The collections of Glashutte Original watches carry with its superiority to its craftsmanship. It adheres to the high-quality functionality and beauty that is evident in this type of timepiece. A lovely gift we can give to the man of our life. It's time movements showcase a hand in blue metal with illuminating fill—the perfect embodiment of masculine sophistication.
This type of watch breathes a contemporary look that, once worn, gives magnificence a different level. Your man will appreciate the attractive silver color of its dial and the stainless steel material that flows entirely to its case. The leather-textured strap provides a durable grip and reliable round shape.
Glashutte Original Senator Chronograph Panorama Date 42MM
There is classiness in black, and this watch defines it all. The dial of this timepiece gets an attractive shade of black. It becomes more radiating with its hands illuminating in the color of blue. The indexes are in Roman numerals combined with the hour and minute markers finely showcased to its outer rim.
This type of watch spells excellence to functionality because of its panoramic view of the date that gives the convenience of which will be appreciated by a loved one. The beautiful design gets visible in its case in stainless steel, and the transparent back spells elegance. Its size is 42.0mm enough to feel durability once worn, and the leather strap gives sufficient grip.
Glashutte Original SeaQ Panorama Date
The Glashutte Original watches take pride in their Spezialist collections because of their exceptional modernity and classiness. It favors those in pursuit of sporty activities like diving, which ultimately makes this watch the best gift to choose for the person you love who fascinates in the outdoor adventure.
These collections get renowned for their timepieces from SeaQ. It speaks of durability enough to cater to the extreme character of diving and other outdoor pursuits. The shockproof feature of this watch gives assurance of reliability from any form of damage. It has additional features like a waterproof capacity within 30 bar and resistance to corrosion of saltwater.
The watch's design provides a case in stainless steel texture, an exceptional definition of class and elegance. The bracelet of these timepieces comes in either stainless steel or synthetic strap. It comes in automatic movements and the exemplary function of panoramic viewing of its date.
Senator Sixties Panorama Date Automatic Orange Dial
The timeless character makes it a perfect gift to give to a loved one who finds beauty in the classic vintage. These timepieces capture the sixties vibe, which becomes visible in the vibrant color of orange to its dial with a rustic effect. The hands in the tone of luminous silver give an added attraction that will melt the heart.
Its vintage chic gets emphasized to its leather bracelet made in alligator texture. The case has stainless steel beauty that blends well with its transparent back. This watch also provides quality to its function because of its ability to resist water damage within a distance of 30 m.
Glashutte Original Lady Serenade Special Edition
This special edition collection gets specially made for Valentine's Day. Its 52 rubies' radiance will surely bring a smile to the lady receiving this kind of gift. Its dial will also capture the eyes with its natural pearl white color plus a shimmering contrast of dark red.
This watch gets a tasteful elegance of Roman numerals combined with the brilliance of diamonds. Its second hand gives shape with an infinity symbol that signifies a romantic love's eternity. Plus, the add-on function power reserve of 40 hours makes this timepiece brilliant.
Takeaway
Expressing love can come in the form of giving gifts. And watches with great masterpieces of functionality and elegance of design like Glashutte Original bring ultimate happiness once given. It makes the receiver feel that, like this watch, they are valuable. And this way, the expression of love becomes priceless.