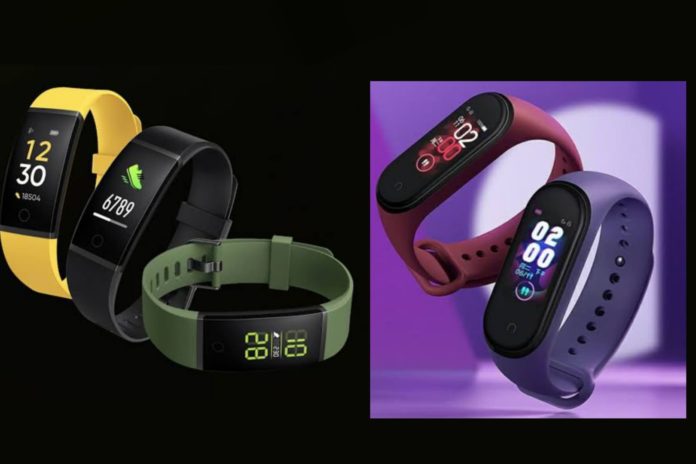 Realme started its new fitness band last month, which is forced to be compared to Xiaomi's latest contribution.
Here's a comparison of the specs and price of Realme Band and Mi Band 4:
Screen
Xiaomi switched to a big screen for its fourth-generation fitness band. The Mi Band 4 comes with a 0.96-inch screen. Realme's Band also appears with a 0.96-inch screen. While Xiaomi has simply claimed that the screen is an AMOLED display, Realme is still to expose its screen selection.
Battery
The Mi Band features a 135mAh battery, and the company maintains the battery can last up to 20 days.
Realme band, on the other hand, gets a 90mAh unit. The company, on its official website, claims that the ideal performance time of the watch is ten days.
Sensors
The Realme band gets 3-axis accelerometer, Heart rate sensor, Rotor Vibration motor, IP68(1.5m) Water Resistance Rating
The Mi Band 4 gets 3-axis accelerometer, 3-axis gyroscope, PPG heart rate sensor, and Capacitive wear monitoring sensor (assist identify skin contact)
Connectivity
The Realme Band uses Bluetooth 4.2 to connect to the smartphone. The band is fitted with smartphones running on Android 5.0 and above.
Xiaomi's Mi Band is compatible with both Android and iOS. The band will run with smartphones running on Android 4.4 and above and iOS 9.0 and above.
Price
While Xiaomi's Mi Band 4 is priced at ₹2,999, the Realme Band is selling at ₹1,499. The Realme Band also gets three colour options compared to Xiaomi's single colour, Black.
The lockdown Coronavirus might be a wrong time for fitness lovers, but it's a good time to do your study and shortlist the best fitness gear Real me Band VS Xiaomi Band 4.