Are you looking forward to buying an uber-cool style watch to pair up with your outfits but do not know what to buy? Or did you break your old watch and are looking to buy a new one in line with the contemporary trends? If your answer is affirmative, you are on the right page. Wearing a watch is the simplest way to elevate the appearance of your ensemble and make heads turn.
However, the choice of a perfect chic watch varies from person to person, depending upon the features, components, and materials of the watch. Finding a watch that suits your personality, occasion, or mood ideally can be an overwhelming process. But if you know the criteria well, you can choose that ideal timepiece quickly. So, how do you decide how to buy a watch?
1. Consider The Types
While making a choice, you must understand the types of watches you can buy, such as analogue, digital, or hybrid watches. Digital watches highlight time in numerical on LED or an LCD face, whereas an analogue has the hour and minute hands depicted by the Arabic numbers or Roman numerals. A hybrid watch combines an analogue and a digital watch into one.
2. Discover the Materials
The material used in making the case and the strap matter. The case and the other parts that hold the face of the watch are made up of materials such as steel, resin, plastic, titanium, or brass, along with precious metals such as silver, gold, and platinum for high-end watches. The straps are usually made using metals, leather, canvas, and exotic skins.
3. Know The Movement Types
The power source of a watch lies in its type of movements, including quartz, battery, and mechanical. Quartz moves when the power of a battery is sent through the quartz on the inside of the watch. The battery movement uses the batteries as the only source of power. The mechanical movement depends on the person wearing it for winding the elements, either manually or automatically.
4. Decide On the Style
Whether for work, formal events, sports, or pairing up with casual outfits, watches are designed in specific styles. Where you want to wear your watch is the deciding factor for buying one. If you are a fitness enthusiast engaged in sports activities such as running, swimming, etc., you need a smartwatch that will show you the number of calories you have burnt or the distance you have travelled. If you need to wear a watch for a date, work, or any formal event, you need a casual watch to pair up with your outfits. There are watches for all kinds of events and occasions.
5. Consider The Features
When picking out the ideal watch, you need to know what feature you need or want to be included. While some watches have a basic model, others have an elaborate one. Based on your requirement, you can wear a watch that only tells time, one that tells your heart rate, distance travelled, and calories burnt or tell you about the time across multiple time zones.
Quite informative, isn't it? Based on the above-mentioned features, you can choose from the list of watches we have shortlisted for your benefit. Read on to figure out the one that suits you best.
The Colourful Stunner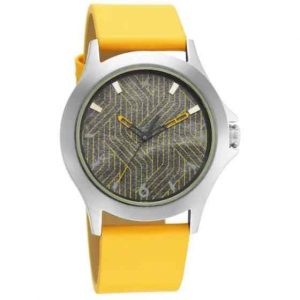 This stunning multicoloured watch has the power to drown dull styles and light up the world for both guys and girls. Carry this beacon of style and flaunt this sun-kissed aurora on your wrist every day.
The Gold Glitch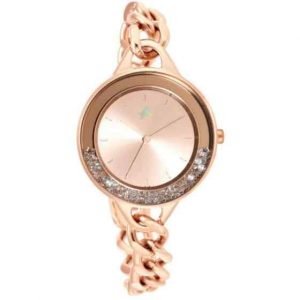 Strut into any damn place like you own it. This season, you got to keep your friends close and this rose-gold watch closer. Let your sassiness spill into your look when you raise a toast with this watch on your wrist.
The Monochromatic Hue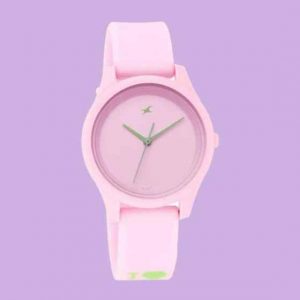 This monochromatic pink dial watch with a pink silicone strap lets you keep it sleek, chic, and glitchy. Make a statement with colourful dials and straps this season.
The Street Smartass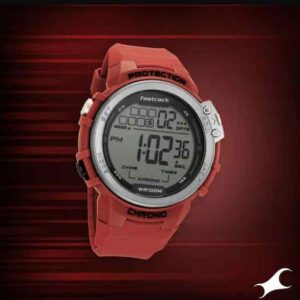 Get the cool and sporty look with this one-of-a-kind smartwatch for men that has everything to summon the inner athlete in you. With 10 ATM water resistance, lightweight dial and smooth silicone strap, this watch is 0h-so-stylish!
Watches add an extra elevation to our personalities. They are a comfortable necessity. So, whether you want to go on a road trip, attend a business conclave, or join your friends at a wedding, these watches can be your go-to accessories. So, get these cool watches from popular brands such as Titan, Fastrack and Raga at your nearby store or browse their collection online.