With the rising population, the need for power has increased as well. This leads to power cuts and hence makes inverters a necessity. An essential part of everybody's life, inverters have revolutionised the way we live. One thing that operates from behind, yet we use it in several ways possible.
The world has become increasingly dependent on the source of power backup. Be it a rural or urban region, inverters are there at everyone's house. Being an efficient power backup source is one of many benefits of inverters.
In this blog, we have discussed a set of advantages the inverters can offer. Read on!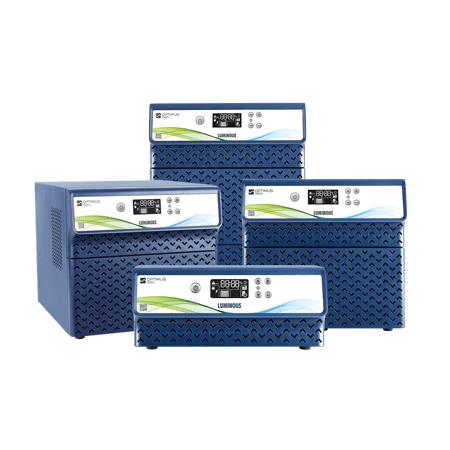 What is an Inverter?
An inverter is a device that efficiently converts direct current to alternating current. Direct current, or DC, is a type of current that is stored in inverter batteries, while AC current is used in most home appliances.
Inverters come in various types and sizes, ranging from small, portable units to large, industrial-grade systems.
Types of inverters
This everyday appliance also has several types, like sine wave inverters and modified sine wave inverters. What makes them different from each other is their level of work. Sine wave inverters generate output that is similar to that you get out of the grid. They are used for sensitive appliances like washing machines, air conditioners, etc. Modified sine wave inverters, on the other hand, are used for appliances that require lesser electricity flow, like microwaves and more.
Advantages of an inverter
An inverter allows everyone to deal with long and frequent power outages and regular interruptions. The best part of having a good quality inverter is that you will not find a difference between when the power is gone and when it is back. It works automatically, making the life of the owner easier. Customers in India trust the Luminous brand for their power backup needs as it offers the best range of inverters in India. 
Easy installation is a key feature of modern inverters, making them more accessible to homeowners. In fact, many inverters come with plug-and-play connectors that allow for easy installation without the need for specialised skills or tools. In addition, some inverters come with user-friendly interfaces that simplify the installation process and provide useful information about the system's performance. Easy installation not only saves time but also reduces the risk of installation errors that can affect the system's performance.
Cost Effective & Portable
It is a known fact that a reliable inverter saves us a ton of money. That is to say, once they are installed, they work automatically and do not require maintenance on a regular basis. Along with being cost-effective, many inverters are easily portable. So, there is no need to worry if you are constantly changing places from one to another.
Conclusion
The inverters are integral and almost inevitable in today's scenario. With the increased power outages, inverters are the most efficient power backup solution for now. Be it your home or office, you can always have electricity.
Electronic devices are essential, and every second without them seems complex. Inverters ensure a secure and easy way to keep the everyday process running smoothly. It has various advantages, like being the source of longer power backups, easily installable, cost-effective, and portable.
If you find yourself looking for a trustworthy brand to buy a new inverter that fits your requirements, then, Luminous is the brand you can blindly trust as their range of inverter systems are pocket-friendly along with being dependable.