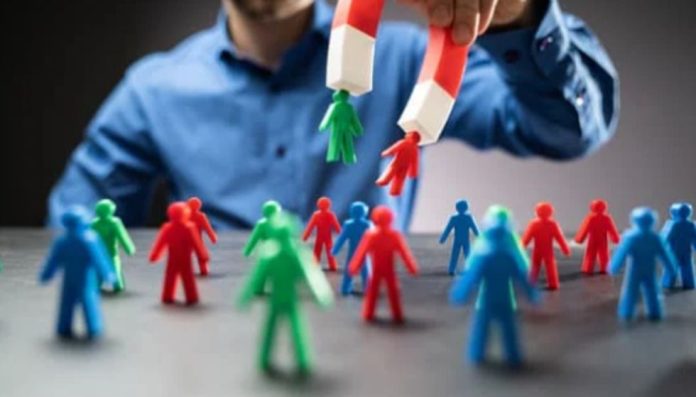 Artificial intelligence, machine learning, augmented reality, and virtual reality is making top headlines in the news and social media. These new technologies are uniquely simplifying our lives at home and at work.
Everyone is talking about generative AI and how it is transforming content and design. But there is more on the technological horizon than AI. If you're not already thinking about how augmented reality (AR) can play a role in your content marketing, you should be.
What is augmented reality (AR)?
Anytime you use software or a device to add new sights, sounds, or sensory stimuli to something you see, that's AR. It's different from virtual reality (VR), which creates a whole new, immersive world to interact with, much like the metaverse or other VR games.
One of the earliest known uses of AR is the game Pokemon Go. It's an IRL (in real life) scavenger hunt that uses your smartphone's camera and geolocation to hunt down different Pokemon hiding in your town.
Have you ever used a filter on TikTok or Instagram? If your answer is yes, you have experienced augmented reality first-hand.
The case for augmented reality
AR has a life outside of entertainment. In a 2019 global Nielsen IQ survey, consumers named augmented and virtual reality the leading technology they expect to help them in their daily lives. Half of the respondents were willing to use them to help them choose products.
This is good news for companies and their marketing teams. Consumers are not only willing to consider using augmented reality in their decision-making process, but AR increases the opportunity for personalization by combining it with consumer data, AI, product recommendations, offers, content, etc.
Augmented reality made progress in physical businesses during the pandemic lockdown. Since people couldn't get into stores, stores had to find a way to reach people, and augmented reality was an ideal avenue.
And just like remote work, Zoom meetings, and flexible hours, AR isn't going anywhere in our post-pandemic society. It is disruptive technology poised to change how shoppers shop and interact with brands. In 2017, the Harvard Business Review said every company would need an AR strategy. AR allows brands to extend their reach to consumers outside the traditional digital space and become part of their daily lives.
3 Ways to Use Augmented Reality in Marketing and Business
Augmented reality is gaining momentum in the market, and savvy marketers are looking to jump on the bandwagon to take advantage of this emerging technology tool. It can drive more sales, help customers make decisions, and generate feedback about your product or service.
When considering whether AR is a good fit for your business, evaluate its three main uses: entertainment, education, and evaluation.
Try before you buy
Augmented reality allows consumers to "try" a product before they buy it, all without leaving the comfort of their homes. As more consumers shop online (or at least do their research online), companies using AR can allow customers to see how a product would work in or even in their homes, reducing purchase risk.
Giving prospects this level of virtual access also reduces the risk for businesses by lowering abandoned items in shopping carts, fewer returns, and driving the sale to those customers who may have been hesitant to buy without this option.
Amazon, Wayfair and Ikea use AR to see what a sofa or lamp looks like in your room before adding it to your shopping cart. Beauty brands like Sephora, Ulta, and L'Oreal have created AR opportunities (in-store and online) where consumers can try makeup before buying.
Gucci, one of the first companies to let people try on sneakers virtually, now lets you shop for " digital-only " versions. They only appear on images or videos (like a filter) that you take so you can share them on social media. You can also unlock your sneakers to use on your Roblox character. (What a collaboration!)
On the other hand, Acura created an AR game to take its sports sedan for a spin in a virtual race against other test drivers. And in the latest try, before you buy, SmartTek created an augmented reality experience for prospective homebuyers to walk through full-scale homes without leaving the comfort of their current home.
Teach to use
Augmented reality is having its moment in the medical and educational fields as it helps add a whole new dimension to learning. It helps make complex ideas more concrete and can bring topics to life for students inside and outside the classroom. Museums are even using AR to get extinct animals back to life.
Brands can use AR to empower further and educate their customers and their team members. Create AR opportunities that show your customers how to use your products or even give them more information about the products they consider buying.
Hyundai was the first automaker to implement an AR user manual in 2015. This provides owners practical information on vehicle maintenance, repairs, and features. Using a smartphone or tablet, 3D images or videos will appear when users scan various areas of their vehicle (both under the hood and in the cabin).
AR transforms customer service centres by combining live video feeds with computer-generated imagery. This allows agents to show rather than (try to) tell customers how to fix their devices.
Keep the entertainment alive
The best-known use of augmented reality is entertainment. Brands can use AR to build excitement around a new product or service launch. As mentioned above, gaming is where AR got its start in everyday use. But the entertainment goes far beyond a treasure hunt. Adding fun AR can be as simple as creating a fun filter to use on social media that promote your new product launch. Or, it can be a complex and immersive experience.
Netflix has used R-A filters and ads to promote previous seasons of Stranger Things. But for Season 4, the media company created an in-person AR experience to get people talking. While the overall experience was shaky, the buzz around the experiences (held in New York, London, and San Francisco) was precisely what the company needed: nearly 287 million hours of the season were watched in the opening weekend.
No stranger to innovative marketing campaigns, Pepsi installed AR at a London bus stop to liven up a usually dull wait for the next bus. People were lining up to use this bus stop once word got out.