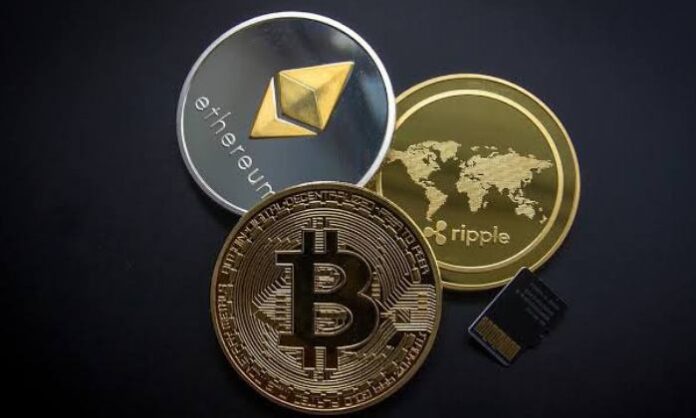 With so many cryptocurrencies, choosing which one to invest in is a difficult task. But whatever cryptocurrency you pick, it is advisable to go for the options that assure you a good return on investment. Also, it is essential to follow market trends and the particular cryptocurrency you intend to invest in. 
Despite so much volatility, some cryptocurrencies have stood the market ups and downs. Given below is the list of cryptocurrencies that propose an excellent opportunity for investors in India.
#1. Bitcoin (BTC):
Bitcoin has always been securing the top position in the crypto assets. Undoubtedly, it is the best digital currency to consider for long term investment in 2020. Currently, the Bitcoin price has become quite stable, and there are only limited coins left. Despite everything, it is the most secure investment option in the crypto world. Moreover, in terms of retail adoption, bitcoin excels all other digital currencies. With so much to offer, there is no reason for not adding bitcoin to your portfolio. Buy bitcoin with INR from any popular exchange to yield fruitful returns. 
#2. Ethereum (ETH):
After the bitcoin, Ethereum is the most promising digital currency. It boasts of having the most appreciable developer's pool in the world. Additionally, for decentralized applications and smart contracts, Ethereum is holding the strongest position. Since Ethereum is exhibiting high volatility right now, INR to ETH conversion is the best bet for long term crypto trading in 2020 in India. 
#3. Litecoin (LTC):
Litecoin is the first open-sourced P2P altcoin in the world. Currently, also being accepted as a payment option at Overstock.com, Litecoin shows good signs for long term investors. It can yield up to 20x returns. Moreover, when measured by market cap, Litecoin is an actively traded digital currency and continues to occupy the position in the top ten cryptocurrencies. It has a faster transaction speed than bitcoin, which also contributes to its increased scalability. 
#4. Ripple (XRP):
Another recommended cryptocurrency that promises you good returns is Ripple. Ripple is the third-largest cryptocurrency and is highly demanded in India. Also, it is the preferred choice for cryptocurrency adoption in banking and financial institutions. Considering its future, XRP has good potential. So, if you want to expand your investment portfolio, consider adding Ripple for fruitful return.  
#5. EOS:
EOS is another popular cryptocurrency with smart contracts that are gaining wide-scale adoption. EOS is the first cryptocurrency to work on the blockchain operating system. As compared to other digital currencies, EOS offers good scalability and ensures faster transaction speed. All transactions executed on the EOS network are free. Considering its low volatility, EOS is an excellent long term investment product. With time the demand for this cryptocurrency is also increasing steadily. 
Takeaway
These are the top cryptocurrencies to invest in India. You can choose any of the above as per their specific factors. All of the above-mentioned cryptocurrencies have high potential to yield attractive returns, so select any as per your choice.