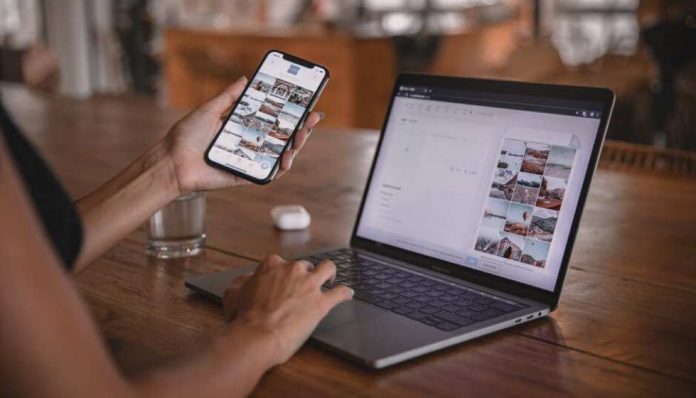 We're shopping online more than ever before, and now you don't even have to leave Instagram to do it. With Instagram's Shopping feature, your fans can shop your brand's products directly from the social network.
You can also use Instagram influencers to promote your shoppable products, as collaborators now can tag products, too. This is a great way to get your products out to new niche markets. Influencers can also provide authentic content that followers believe in. After all, consumers trust influencers more than brands.
But to use the feature in your marketing mix, you have to know how to set it up and manage it. Keep reading to learn how to use Instagram Shopping and give permission to influencers to tag your brand's products.
Get a business or creator profile.
First off, to activate Shopping, your account needs to meet some basic requirements:
● Sells eligible products
● Located in a supported geographical market
● Complies with Instagram's merchant and commerce policies
● Has a web domain to sell from
If your brand fulfills these requirements, you have to convert your profile into a business or creator account. Keep in mind that to change to one of these professional accounts, you have to have a Facebook page to link to your Instagram.
Go to Edit Profile, and then Switch to Professional account. Follow the steps there and add your business information, like your phone number, direction, email address, and website. Now you're ready to set up Shopping.
Set up your catalog and turn on Shopping
The Product Catalog is what powers Instagram Shopping. There are two ways to create one:
The catalog manager within Facebook Business Manager; or
Integration with an e-commerce platform
Instagram Shopping connects with several of the big e-commerce platforms, like Shopify, BigCommerce, and more. So if you have one of the partner platforms, you can import your products from there.
If you don't have one of the approved e-commerce partners, you have to do things manually with the catalog manager. Create a catalog (Instagram recommends only using one), and add in your products and their necessary descriptions.
After you set up your first catalog, submit your account for review. This may take a few days, but assuming all goes well, you'll be able to activate Shopping. Go to your profile > Settings > Business > Shopping and select the catalog you want to link to your account.
Users can access your Instagram Shop from two places on your profile:
The View Shop button below your account information; or
The shopping bag tab on your content section
But an empty shop is useless, so now you have to add products!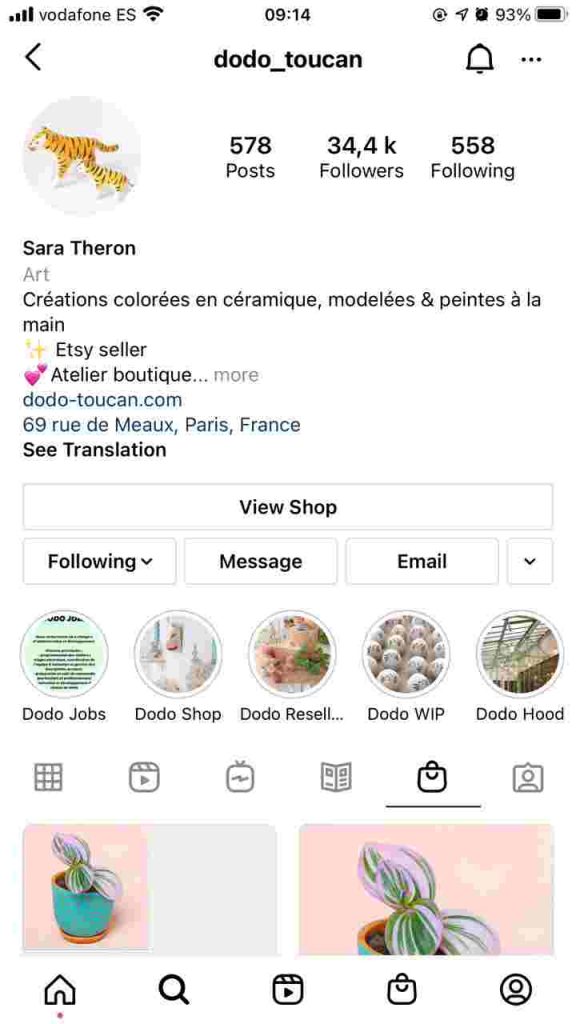 Tag products and use the Shopping sticker in stories.
Tagging products in your content is the whole point of Instagram Shopping. Users view your images and video, and they can tap the media to see exactly which products are being featured and navigate to that product's shopping page on your e-commerce. 
Upload a photo and choose the Tag products option. It's just like the feature for tagging people, except you have to select the product you want to feature. Your posts will then have tags showing the products you've added, as seen in the image below.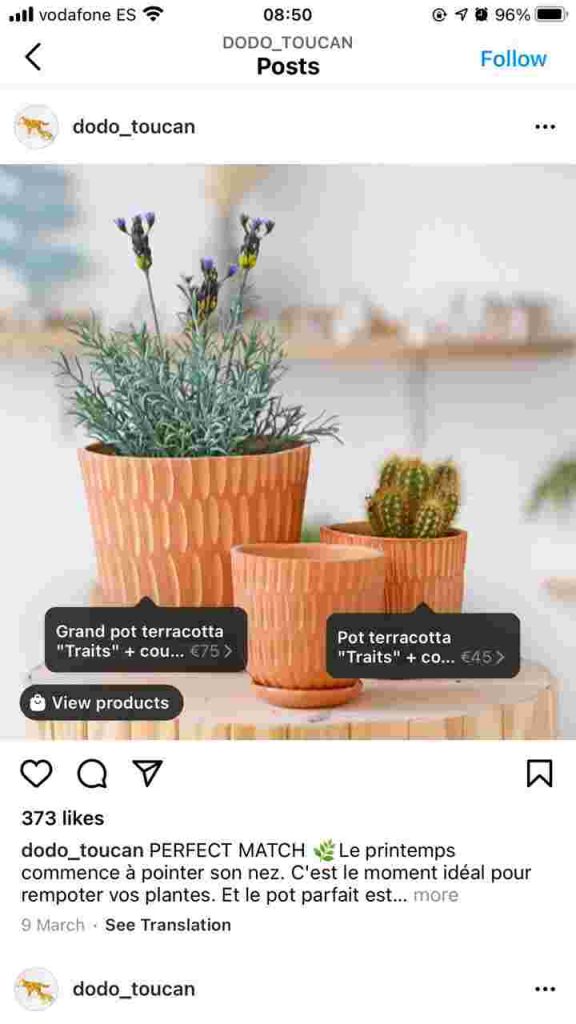 If a user clicks the tag, they'll be taken to your Instagram Shop. If they want to purchase the item, they'll click the blue View on the Website button to go right to your e-commerce.
In Stories, tags come in the form of stickers. Upload your story content, and choose the sticker option. Each of the products in your story will have its sticker, so find the one you want and publish.
Give your collaborators Shopping permissions.
When you find influencers to promote your products, you may also want them to tag those items. By default, they can't do this. To allow influencers to tag your brand's products:
The influencer must have a professional creator account; and
It would be best if you permitted them by approving them as a business partner
To approve influencers, go to the Business > Branded Content section of your account. Once the influencer has your brand's permission, they can upload content and tag products the same way you do.
If you don't want to permit influencers to tag your products, there's another way to use their content with Instagram Shopping. Please get permission from the influencer to repost their content, and upload it to your account. Then, you can tag both them and the products, so followers can see which influencer created the content and which products they included.
Finally, when including influencers in your Instagram marketing strategy, you should try out influencer-specific discount codes. These are coupons unique to each influencer that offer followers a discount on your products. Everyone loves a deal, so discount codes are a great way to pique interest in your shop.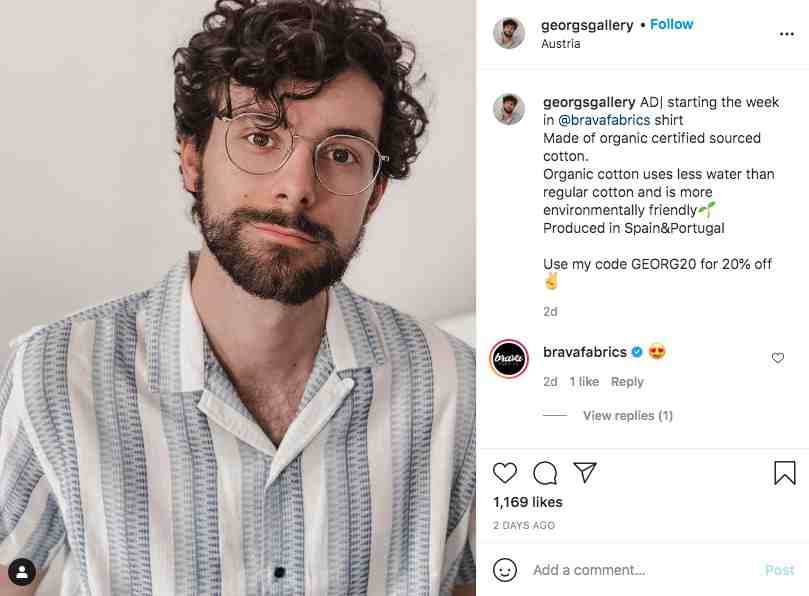 Conclusion
Shopping enhances the brand experience on Instagram, as followers can meet, get to know, and shop your products all in one smooth session. And when you incorporate influencers into the mix, you get authentic content that followers tend to trust more than your brand produces. If you'd like to learn more about setting up and managing influencer campaigns that utilize Instagram Shopping, check out this influencer marketing guide for e-commerces.