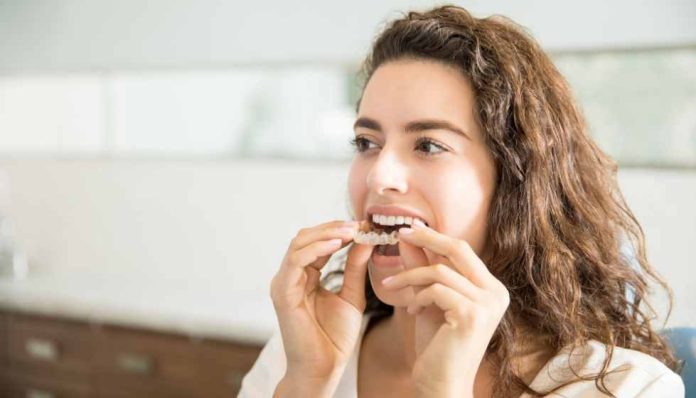 If you think pain is inevitable when getting your teeth straightened, you've probably yet to hear about toothsi clear aligners by makeO. Putting the era of metallic smiles behind us, makeO's aligners are making people smile even while getting their teeth straightened.
Never heard of clear aligners?
Just like braces for teeth, clear aligners take care of your misalignments only more comfortably and inconspicuously. Whether you have teeth gaps, crooked teeth, underbite, overbite, or forwardly placed teeth, clear aligners are crafted by technology to work like braces but without meddling with your diet, oral hygiene routine, and comfort. And since they are clear, they are transparent, making them go unnoticed on your teeth. Now that's a big takeaway compared to the traditional methods of getting teeth straightened.
And makeO is bringing this convenience and comfort to your home and vicinity, backed by 100+ orthodontists and dentists and advanced technology. So yes, it's safe to say that long queues and multiple clinic appointments are now a thing of the past!
About makeO's toothsi:
toothsi is the brainchild of 4 veteran orthodontists-turned-entrepreneurs who combined their expertise with technology to change the way people get their teeth straightened. They studied the predicaments of the teeth aligning process and invested in advanced technology (the first of its kind in India), which led to the launch of toothsi teeth aligners in 2018.
But using technology wasn't the only part of their vision. They wanted to extend the comfort and safety of the aligners to the overall makeO journey. Hence, they decided to cut the queues and take the teeth-straightening process directly to the comfort of the couch, thus bridging the gap between expertise, technology, and comfort.
To take toothsi to greater heights, the 4 orthopreneurs launched makeO (short for makeOver) in 2022, a clinical beauty platform to spearhead toothsi. With the vision to become India's leading clinical beauty platform, they are on a mission to revolutionise the way Indians get their dream smile successfully with makeO.
How are they making aligners the safest choice for your teeth?
Today, makeO is backed by:
India's biggest (20,000 sq ft) manufacturing facility, which is ISO-certified for high quality and credibility.
India's first-ever robotic aligner trimming machine that ensures smooth and comfortable aligners.
Industrial-grade 3D SLA printers to curate aligners with the desired precision and perfection.
Highly-resilient 3-layer polyurethane aligner sheets imported from the US, Germany, and South Korea.
100+ experienced orthodontists and dentists with over 10 years of experience to ensure your case is in the best hands.
Virtual monitoring via the makeO app so you can reach out to your orthodontists without worrying about stepping out.
Hands-on customer care who will guide you at every step of your journey with makeO.
Pan India presence, so no matter where you are, you can always get in touch with makeO via the at-home, impression kit, partner clinics, and experience centre services.
The prime focus was to not only make customers feel comfortable but also safe which is why the brand has over 100+ orthodontists and dentists on board. These orthos are available at every step of your journey to provide virtual support and clear your doubts and queries. Be it the first fitting of your aligners or taking you through the impression kit set, the orthos will always be available for guidance.
So far, makeO has designed over 1,50,000 smiles (and counting!), thus becoming the fastest-growing teeth aligners (made) in India.
What makes makeO aligners different from traditional teeth-straightening methods?
They are:
With no poking or chafing wires, these aligners will straighten your teeth without hurting your gums or the inner side of the cheeks.
Compared to traditional methods, makeO aligners are removable! You get to control when to wear and remove them. However, to see desired results, it's necessary to wear them 22 hours a day.
Since aligners are made of clear sheets, they are easily unnoticeable on the teeth, which means you can smile confidently without worrying about the conspicuous metallic shine.
No clinic visit is required to maintain your aligners! You can run them under water or use toothsi foamy to keep them as good as new.
A big plus! Since aligners are removable, there are zero restrictions on your diet or while maintaining your oral hygiene routine.
Minimal to no clinic visits:
Unless your case is severe, aligners require zero to minimal clinic visits during the entire journey.
On a mission to make teeth straightening a hassle-free experience, makeO is breaking all the stereotypical methods for its customers. Here's how they've made the journey easier for all:
Visit the makeO website or download the makeO app.
Book an appointment at home, partner clinic or experience centre.
Get your teeth scanned at the respective place of appointment by toothsi pros.
Your teeth scan will then be assessed by orthodontists and tech experts who will create a 3D virtual plan of how your future smile will look.
Once the plan is shared with you and only after you approve and pay, the aligners will go into production.
Once your aligners are delivered within 25 working days, your smile partner (customer care executive) will arrange a virtual call with your orthodontist for the first fittings.
Then onwards, you and your orthodontists can stay in touch via the makeO app for updates, queries and doubts until the end of the journey.
Simply put, everything at makeO is supervised by experienced orthodontists to make sure you get that dream smile you always wanted!
How do makeO aligners work?
Just like braces!
They are designed to make small movements.
They apply gentle pressure to move your teeth in the desired position.
However, you must wear them 22 hours a day to see a visible improvement in an average of 6-8 months.
Not just the aligners, makeO wants to offer an experience that stays with the customers even after their journey has ended with them. Today, makeO has successfully left its footprints across various states in India, but for the brand, it is just the beginning.
About makeO clear aligner packages?
makeO has 2 pocket-friendly packages to deliver its premium experience. Even better, they have super-affordable EMI options to make the experience all the more convenient.
The two packages are:
toothsi easy (if your smile makeOver is simple) – Rs 59,999/-
toothsi prime (if your smile makeOver requires more care) – Rs 74,999/-
So, if you are ready to put the traditional painful methods behind you, makeO is here to give you teeth straightening experience just like you'd want it— comfortable, safe, trustworthy, and result-oriented.
Explore more about makeO here.