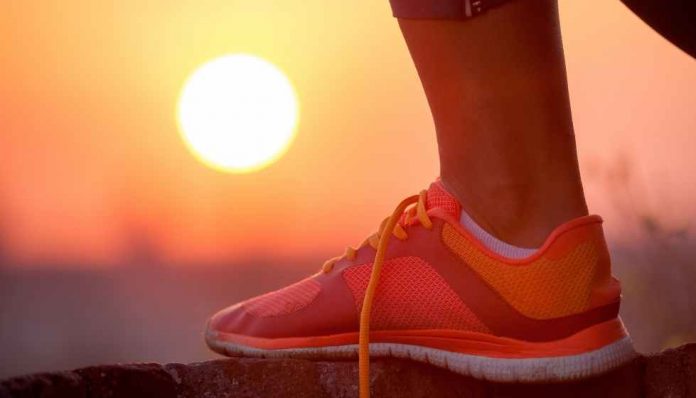 Choosing the right gear is crucial to staying fit if you exercise regularly. Different exercises require different kinds of shoes, and proper footwear will help you make movement and prevent injuries. There are numerous sports shoes available in the market for women, men and kids for every workout type.
Top Sport Shoe Choices
Replace your old sneakers with this in-demand, comfortable and durable sport running shoes–
● Adidas Ultraboost 21- This hot-seller, comfy, breathable and flexible sports shoe is the right fit for running. It features an LEP Torsion System, making it possible to experience remarkable lift-off. The Primeknit material is about 1.9mm thick to ensure flexibility while running. The thick external plastic cup feature helps the heel stay put. The grip is perfect for making a run because of the Continental Rubber outer sole. Therefore, the Ultraboost 21 is a hardcore runner's shoe.
● Asics GEL Kayano 27- This sports shoe was introduced in 1993 and are still a popular choice because of its fantastic fit and top quality. It fits the foot like a sock due to the mesh upper and the midsole cushioning. The GEL cushioning adds an immense cushion to make it comfortable with every footstrike. There is a system to handle energy return efficiently and a distinct feature to hold your heel in place. To enhance the durability, Asics High Abrasion Rubber is used.
● Pegasus 37- Nike has introduced react foam along with zoom air in the midsole of Pegasus 37. These shoes gained massive popularity amongst the youth due to their creative look. Responsive cushioning is the most significant part of this sports shoe. The streamlined shape of this show provides immense comfort and delivers breathability. The zoned rubber outsole ensures a strong grip. All these features ensure that the shoe fits the foot perfectly.
● GEL-NOOSA TRI 13- This shoe is specifically designed for triathletes. It is easy to wear and makes running an absolute bliss. It is made up of breathable and lightweight material and is appealing to look at. The Guidesole technology reduces the effort you have to put in to enjoy exercising. It features the super Aharplus outsole, which ensures traction and energy return to get out of your comfort zone and take an extra step.
● New Balance 1080- This shoe has attracted a handful of runners' for good reasons. It is made up of breathable material and is undoubtedly durable. The Hypoknit upper ensures that it stays put on your feet regardless of how many miles you have run. It has a somewhat firm cushioning and efficient energy return. The outsole makes the toe lift-off better for seamless running strides. However, it takes time to get the hang of it.
● Adidas Men's Terrez Agravic Speed- These lightweight shoes are available in an all-white exterior and several other colours. These shoes are best for dry trails like tricky, rocky terrain with obstacles. The breathability and durability help you kick things up, and its significant features allow air inside the shoe to help prevent blisters.
These are some top-notch sports shoes available in the market that are perfect for every runner.
What to Consider Before Buying a Pair of Sports Shoes?
A good pair of shoes depends on the individual's choice. There are numerous things that you should consider before buying a pair of shoes, such as:
● Stability- Different kinds of training and exercises require a stable pair of shoes. If you plan to do weight training or cross-training, you need a shoe with a solid base to stabilize your body weight. The sole's width at the forefoot is crucial to encourage easy toe movement and allow you to balance appropriately through your activities. 
● Cushioning- As every runner will agree, exercising consists of various movements. The requirement for cushioning differs from one individual to another and what type of exercise they are performing. If you require a good amount of cushioning, check whether the shoe has a shock-absorbing feature. You also need to check the component's type, hardness, and thickness used to make the sole.
● Support- If you are a regular runner, support is an essential factor to consider. It helps to keep your feet healthy in all situations. Can experience support in many forms, such as adequate side reinforcements or a strong lacing system. A good amount of support is required to keep the foot at an increasing pace.
These are three vital factors that you should consider before buying quality products at the best price.
Conclusion
Whether it's sports running shoes or everyday sneakers, footwear is an important part of life. Different kinds of training put different levels of strain on your foot. Therefore, it is essential to get the perfect shoe that will be able to handle the force you'd be putting on them.