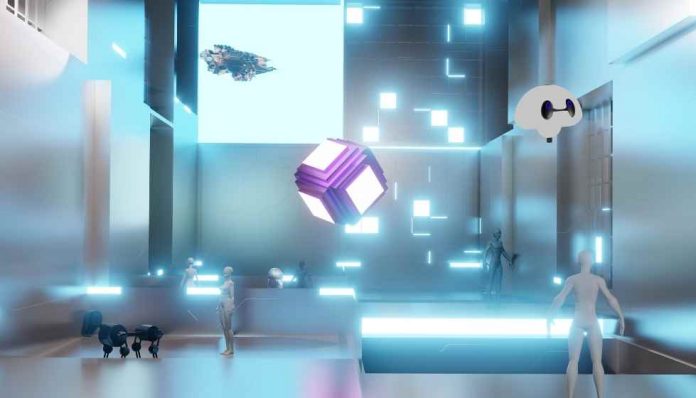 According to data from PWC, in 2024, advertising investment in the Metaverse will reach 2.7 billion dollars. Additionally, another 4,100 are expected in training and 4,100 more in industrial maintenance, and 17,600 in video games. This set of figures endorses the promising prospects for this new digital ecosystem.
In line with this, Mediaocean has just launched a study on how brands must prepare their presence and digital strategy to compete in the Metaverse.
By introduction, the analysis explains that the Metaverse is not a virtual place like Minecraft or Roblox that is accessed through virtual or augmented reality. 
But it is an environment where our digital and physical lives intersect, following what people have been experiencing for years, which they increasingly observe as more important parts of their lives; friends, work, or entertainment, are going digital.
In line with the above, the study indicates that the present moment is the right one for brands to plan and experiment with to have a strong presence in the Metaverse when this environment is mature.
Likewise, it suggests following the trend of other virtual worlds such as Fortnite, Roblox, or Animal Crossing, in which millions of people spend time, and brands such as Vans, Gucci, Nike, or Verizon are investing in enriching their brand experience.
At the same time as supporting other signs of the paradigm shift in the digitization of lives, such as the purchase of virtual real estate by investors, NFTs, or cryptocurrencies.
The analysis proposes different lines of action for brands to be prepared for the Metaverse and take advantage of all its advantages. These are:
Continue to give importance to relevance and personalization. The Metaverse is expected to be intimate, hyper-personalized, and enveloping. All these traits make it an excellent opportunity for brands, although not without its challenges. Hence, they are advised to have a solid proprietary enriched data policy.
It is also considered that their protection will be critical since when new premium digital channels appear, the danger of cyber criminals hangs over them.
Along with the above, Facebook/Meta wants to turn the Metaverse into a profitable ecosystem. Therefore, as it develops, its code will be available to other developers, and Meta will try to monetize it using existing formats. Start with the old formats before implementing the native ones.
At first, it's expected to be like the early days of internet advertising, when online ads looked like print, or mobile ads were clunky full-size display ads. And later, it is expected that will devise native formats will create native formats for the Metaverse that marketers will learn to use. For all these reasons, it is recommended to assume that current advertising formats, such as short videos and text overlays, will be the most used in the digital industry. 
Search and shopping feed management. Although the key, both now and later, is to catalog all digital assets. For the personalization and optimization of campaigns in the Metaverse, brands are advised to organize and assign a common taxonomy, which applies to the management of their digital assets and the optimization of search engines. Because in addition, this will allow them to operate among the numerous connected applications that the Metaverse will promote.
Promote interoperability between the different 'metaverses.' Like there are multiple e-commerce sites, virtual worlds, mobile platforms, or cryptocurrencies, brands will find other options and opportunities in the Metaverse. And although this ecosystem has its focus, it is unlikely that all industry players will join.
In addition, in the same way that users use PC or Mac, or are more of iOS or Android, it is expected that there will be multiple metaverses, and brands must anticipate being interoperable between them. The importance of having cataloged assets and being able to have a presence in any environment and have a significant competitive advantage over other brands is emphasized.
Finally, the study highlights the importance of brands implementing improvements now, focused on having a presence in the Metaverse and not seeing it as something of the future and a new generation. Because if not, once it is fully operational, the brand will be left out of this promising channel.